Your EPCHS e-Newsletter, October 2022
Dear EPCHS Families:
We are coming up on one of the most exciting times of the school year, as Homecoming week has arrived.
Our students, staff, faculty and alums all look forward to Friday, October 7, as we will host the EPCHS Homecoming Parade. Many of our athletic teams, activities and clubs will be represented in a lineup that includes 46 entries.
As we welcome many of our alums back to campus to participate in Friday's parade and watch our Mustang football team take on Shepard, we're happy to report on the many accomplishments of our current students and staff.
In September, we recognized the 133 current students and 36 graduating seniors who earned Straight A's during the second term of 2021-2022. Also, we are pleased to announce that 37 current students and 2022 graduates earned AP Scholar recognition by The College Board. In addition to the 37 AP Scholars, an additional 83 students can potentially earn college credit for receiving at least one 3 or higher on an AP exam.
In an effort to be designated as an "Exemplary" rated school (top 10% of all schools in Illinois), starting this month, teachers will be providing our students with ongoing SAT preparation. I encourage you to have some focused discussion with your children regarding the important impact this has on them and our district.
Our athletic teams continue to shine, with the football, volleyball, cross country, golf, boys soccer and girls swimming seasons continuing toward postseason play.
To our alums, we hope you can make it back to campus this weekend to celebrate your alma mater. With all the improvements made in recent years, we know you'll be proud to call yourself a forever Mustang.
Sincerely,
Thomas O'Malley, Superintendent
Here's a guide to Homecoming Week 2022:
Spirit Week starts on Monday, October 3, with Pajama Day for students.
Tuesday, October 4, is Future Day, as students will dress as how they see themselves in the future.
Wednesday, October 5, is Decades Day. Freshmen will dress like it's the 1980s, sophomores like it's the 2000s, juniors like it's the 1970s and seniors like it's the 1990s.
Thursday, October 6, is the Class Color War. Freshmen will wear green, sophomores will wear gray, juniors will wear white and seniors will wear black. Students will also participate in a pep assembly on Thursday.
Friday, October 7, like all Fridays at EPCHS, is EP Spirit Day.
The EPCHS Homecoming Parade will begin at 3:30 p.m. on Friday. The football game against Shepard kicks off at 7 p.m.
The Homecoming dance will take place on Saturday, October 8, at 7 p.m.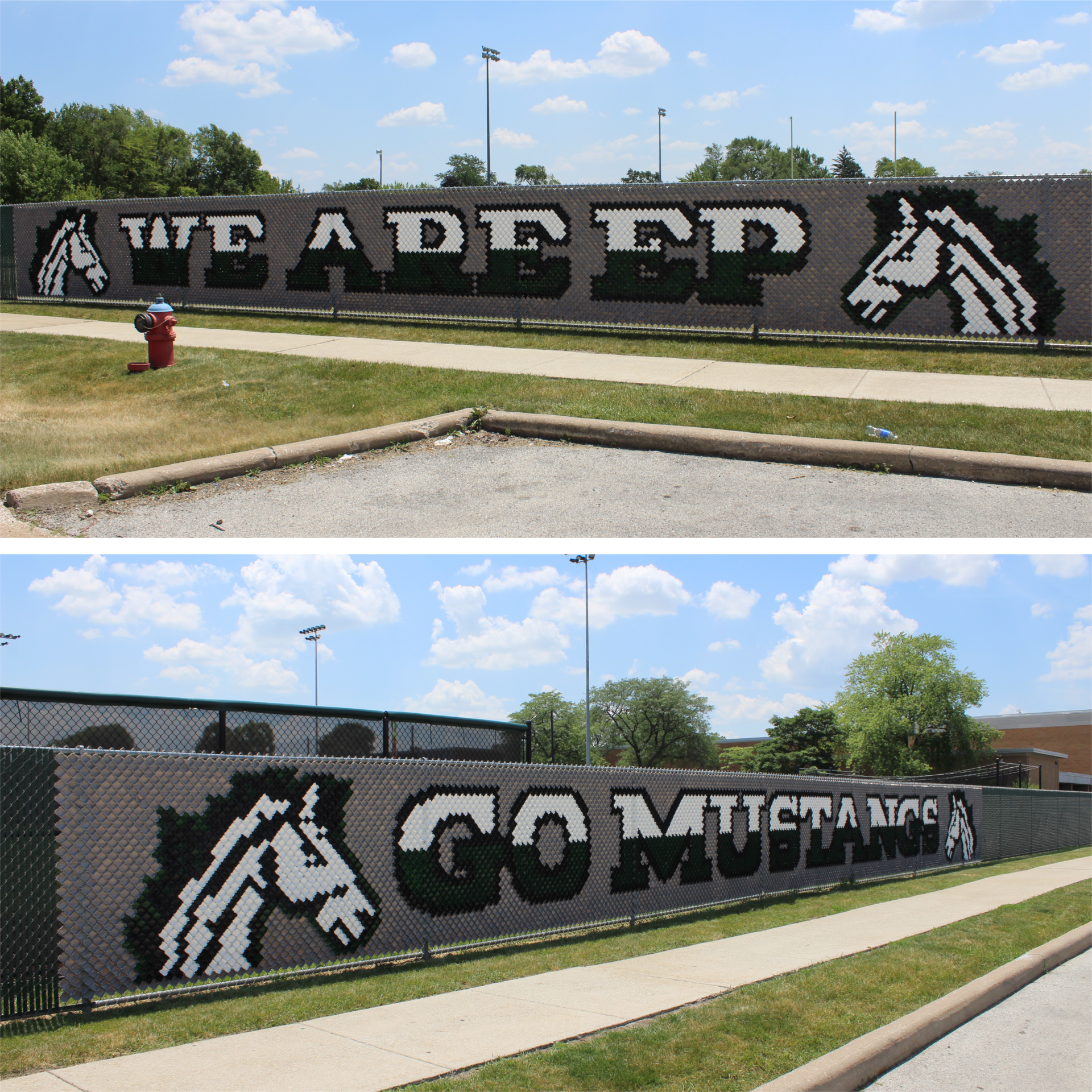 FIRST STEAM NIGHT: EPCHS held its first STEAM night of the 2022-2023 school year in September, focusing on science.
Three students — Leilanny Velez, Meghan Easterhouse and Jack Donnelly — read the classic story "The Three Little Pigs" to Evergreen Park children in second grade and younger. The children then had an opportunity to build their own houses out of plastic straws, and then see if they could withstand the wind that came in the form of fans.
"I loved interacting with the kids and they were hilarious and respectful," said Donnelly, an EPCHS senior and student ambassador to the school board. "The children were a delight to work and play with."
A big thank you to science teacher Anna Papasideris for organizing the event. Papasideris said the next STEAM night at EPCHS is planned for February.
133 Mustangs Earn Straight A's
Evergreen Park Community High School students were recognized for their hard work during term two of the 2021-22 school year at the bi-annual Straight "A" Luncheon on Wednesday, September 14.
Mr. William Sanderson, principal, and Mr. Thomas O'Malley, superintendent, spoke with students about their effort, dedication, and commitment which helped them achieve this accomplishment. They also challenged them to repeat this accomplishment in term one of this school year.
In addition to the 133 underclassmen, an additional 36 graduating seniors also received straight "A"s during Term 2.
We congratulate the following 169 students:
Current students Jordyn Abercrombie, Grace Allison-Plewa, Luke Allison-Plewa, Lucy Anderson, Eduardo Antunez, Savion Bamberg, Armani Barraza, Zoey Batchelor, Aidan Bench, Christopher Bennett, Summer Betts, Katherine Beyer, Sarah Beyer, Emma Bik, Max Bilas, Julianna Black, Kenny Bledsoe, Jack Bledsoe, Mikaela Bolden, Theresa Brady, Joseph Brandt, Aidan Brunner, Madeline Bruno, Joie Burns, Jack Byrnes, Ava Cahnman, Ulises Cardenas, II, Isabelle Carney, Leo Cassidy, Maximillian Castillo, Savannah Chandler, Rocco Cipolla, Kailen Curran, Giancarlo DeArcos, Erin Degnan, Cecilia Deranek, Madison Donovan, Owen Doogan, Katharine Downey-McGurk, William Duffner, Tyler Duran, Lamiya Easley, Malachi Espinoza, Hope Etapa, Maeve Faulkner, Nathan Fernandez, Maya Fiecko, Jahonie Fouch, Lily Gagner, Susana Garcia, Lauren Gignac, Lilli Gleason, Skyeleigh Godowic, Isaac Gradilla, Andrea Gramajo Hernandez, Ashton Gray, Laila Griffin, Leah Grundy, Zach Gumban, Jamia Head, Nadia Herrera, Kaitlyn Higgins, Brendan Holmes, Sherlyn Jaramillo Benitez, Byron Johnson, Christopher Johnson, David Johnson, Trinity Jones, Helen Joyce, Michael Joyce, Margaret Joyce, Abigail Kupscuk, Asia Lane, Grace Leonard, Paul Lieske, Joshua Lukacs, Vivianna Madrigal, Aniya Martin, Dulce Medina-Meza, Karla Miller, Octavia Miller, Xalani Mitchell, Noah Moreno, Kara Mullen, Alejandro Munoz, Martie O'Connell, Gerald O'Hare, Kameron Oden, Kai Odom, David Ortiz, Saanvi Patel, Heather Paterson, Ruth Peart, Naeli Pedraza, David Peralta, Dayhana Peralta, Andrew Perez, Emily Pineda, Nuala Rabbitte, Drew Ragsdale, Maya Rayson, Abigail Rech, Samantha Ricks, Neydelin Rodriguez, Yuliza Rosas Magadan, Dianna Rosillo, Shyair Rowser, Cinthia Saldana, Darion Saygo, Jack Schaller, Kennedy Shelby, Christopher Silverman, Jr., Skylar Slepicka, Gabrielle Smith, Lawrence Somerville, Sheridan Stiles, Rosebud Summers, Suzanne Summers, Quenton Talbott, Tazanna Terrell, Rachel Thomas, Magdaline Tracy, Terrence Turner, Brianna Uwajeh, Noah Valdez, James Visser, Aubrey Walczak, Giovanni Walker, Ilaan Wheeler, Layla Williams, Amelia Woody, Bewendson Yameogo and Taylor Yeaman.
and
2022 graduates John Bledsoe, Nathaniel Chacon, Alexandra Clermont, Gibran Cortes, Amarissa Dotson, Caroline Duffy, Ryan Ewert, Mariana Ferreira, Julian Flannigan, Akirah Fort, Elaine Frederickson, Natalie Galindo, Nasir Gilmore, Adam Gradilla, Thomas Gricus, Soriya Holloway, Myah Johnson, Nathan Johnson, Trinity Jones, Mahari Kelly, Jr., Thomas Kerwin, Wyatt Lantz, Romere Lawrence-Ridgner, Makayla Lumas, Mary Marcosa, Isabella Martinez, Cassandra Mora, Jed Msallek, Denisa Neda, Joseph Peirce, Connor Pula, Thomas Schergen, III, Connor Shomody, Matthew Summers, Tristan Wagner and Paul Westphal.
Above: Students in Mr. Rymek's Building and Construction class made a scale model of a shed frame before beginning actual construction as students in Mr. O'Connor's Metals class are busy with their welding projects.
See the new 'In The Classroom' section on the school website! #intheclassroomatep
Teacher Spotlight: Michelle Vucsko
Our first teacher spotlight of the 2022-2023 school year is Michelle Vucsko, an English teacher who currently teaches AP Language/Composition and Pre-AP English 1 courses at EPCHS. She's also well known across the Chicago Southland as a phenomenal softball coach, having won the South Suburban Conference Coach of the Year award this past spring.
"Ms. Vucsko is masterful in her abilities to create a culture for learning," EPCHS Director of Curriculum Deborah Schillo said. "She sets high expectations while simultaneously nurturing student growth. Her excellent rapport with her students contributes to their enthusiasm for learning."
FERPA Notification: There's an update in the annual Family Education Rights and Privacy Act (FERPA) statement that can be found here.
How It Started / How It's Going
EPCHS Yearbook Covers: 1955, 2022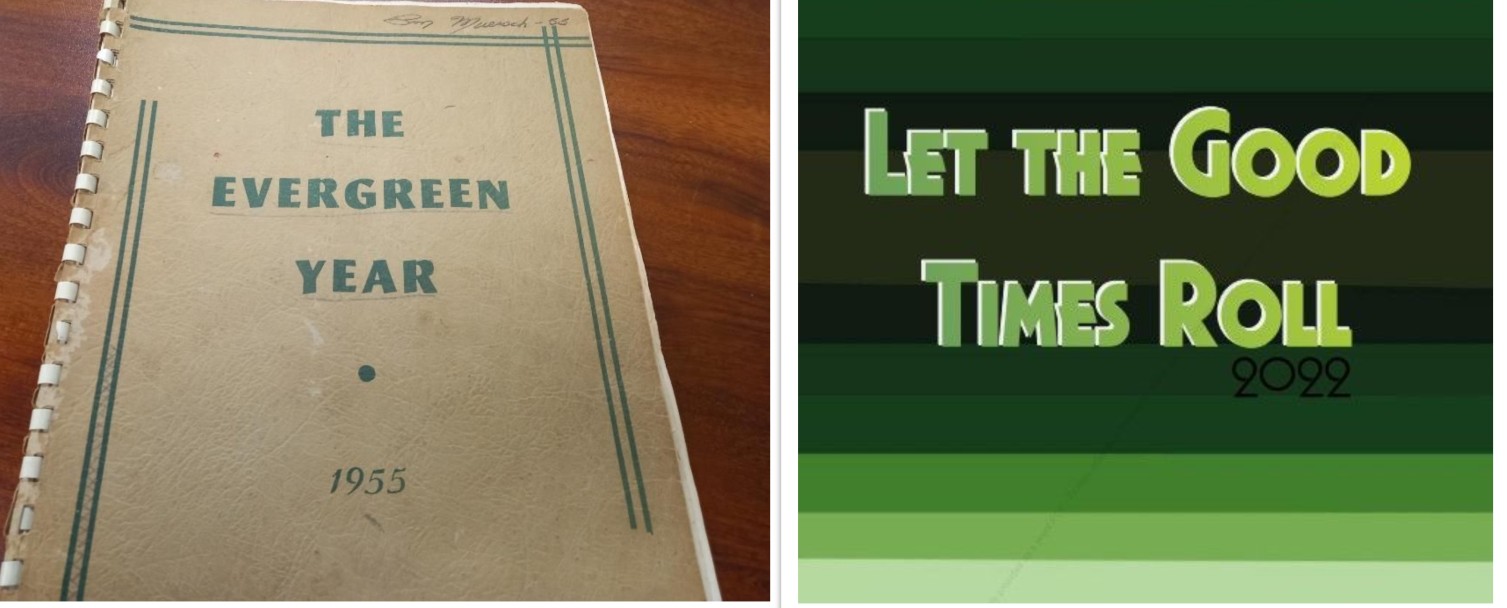 3-PEAT: Senior golfer Charley Burns became the first girls golfer ever to win three consecutive South Suburban Conference individual championships. Char-LATTE, as she's known to her teammates and coaches, was the individual medalist at the girls golf conference tournament in 2020, 2021 and 2022.
Three boy golfers — Leo "The Lion" Cassidy, Colin "The Craft Norwegian" Kelly and Luke "Rip It" Rosso — have all qualified for the boys golf sectional as individuals.
Our football squad is 4-1 on the year, with wins coming over Manteno, Carver Military Academy, Oak Lawn and Reavis.
Cross Country stars Rocco Cipolla and Carmela Woods continue to dominate the competition.
The Cross Country team recently received a huge donation from the Winged Foot Foundation, with top-of-the-line running shoes and other equipment helping our runners achieve success.
Five seniors were honored on Girls Swimming Senior Day: Sarah Beyer, Riley Hayes, Olivia Mankowski, Nuala Rabbitte and Cinthia Saldana.
Athletes of the Week so far have included Leo Cassidy (Golf), Miguel Ceja (Boys Soccer), the Mustang offensive line (Football), Dora Cihocki (Volleyball), Maeve Faulkner (Girls Swimming), Rocco Cipolla and Carmela Woods (Cross Country) and Colin Kelly (Golf).
Congratulations to the Central Middle School softball team, which recently finished their regular season 11-0. All home games were played at EPCHS. We can't wait to see these young stars in EP Mustang gear!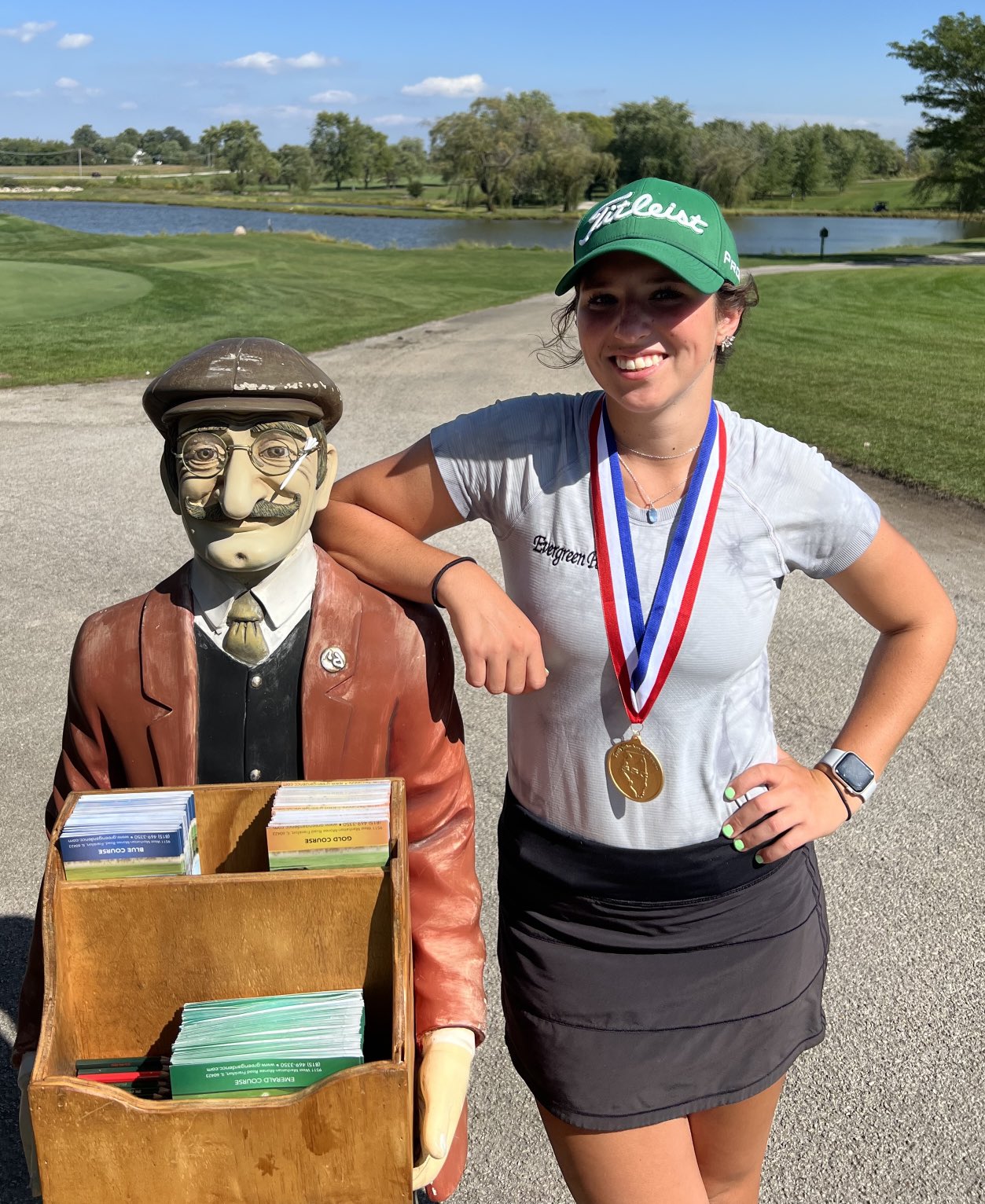 Charley Burns (pictured above) has aspirations to qualify for the state girls golf tournament for the second year in a row. She can make that happen during the sectional meet in Sandwich, Illinois, on Monday.
The wins kept coming for Burns, who also won our Twitter poll for having the best golf nickname.
Important Dates In October
October 3-4: Homecoming Olympics
October 6: Homecoming Assembly
October 7: Homecoming Parade, Football Game
October 8: Homecoming Dance
October 10: Columbus Day, No School
October 12: School Improvement Day, 12:05 p.m. dismissal; standardized testing for freshmen and sophomores, PSAT for juniors, no school for seniors
October 24: College and Career Fair
October 25: EPCHS Trunk-or-Treat
October 25: Board of Education meeting
October 26: Sounds From The Stadium concert